En 2013 Marc Dorcel a remporté l'AEBN International VOD Award, avec l'une de ses dernières productions réalisée par Hervé Bodilis, « Claire Castel : Comment je suis devenue libertine ».
Depuis 2006, les AEBN VOD Awards récompensent les films et stars les plus populaires en se basant sur les plébiscites des millions d'internautes qui fréquentent le réseau de plateformes VOD de la société.
« Nous sommes ravis et fiers que notre production soit distinguée par des internautes exigeants du monde entier », déclare Gregory Dorcel, Directeur Général. « Cela nous conforte dans nos exigences et notre envie d'investir toujours plus, ainsi que de nous entourer uniquement des meilleurs afin de présenter des productions de très haute qualité malgré la tendance inverse prise par le marché. »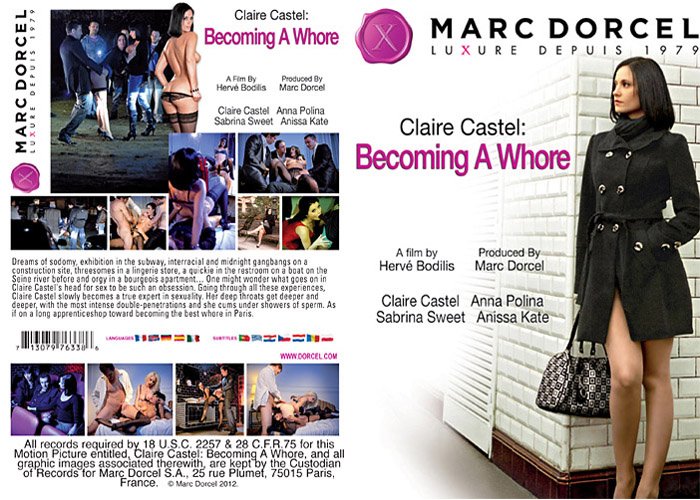 A noter que dans une première version, le film était intitulé « Claire Castel : Comment je suis devenue une putain ». La version anglaise s'intitule d'ailleurs « Claire Castel : Becoming a whore ».
Chacun en tirera les conclusions qu'il veut…
In 2013 Marc Dorcel has received an AEBN VOD award for « Claire Castel: becoming a whore« , a recent production directed by Hervé Bodilis that was recognized by AEBN visitors as the Best International VOD Movie of the year. Since 2006, the AEBN VOD Awards have recognized the years' most popular films and stars based on the viewing habits of the millions of visitors to the company's network of VOD theaters.
"We are thrilled and proud that our production is acknowledged by selective viewers all around the world," said CEO Gregory Dorcel. "This comforts us in our high standards and in our will to invest ever more, as well as to work with only the best, so as to present very high quality productions, in spite of a market that tends to go in the opposite direction."
The AEBN award will fit well with Marc Dorcel's large collection of international prizes and reaffirms it's status as the most-awarded European studio, the company added.
Date: novembre 7, 2020